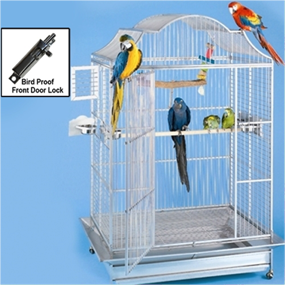 We have three cages for sale. Contact us if you are interested.

Product ID: 506_SS_Matte - $500 OBO (2 cages)

Lead and zinc free, this stainless steel will not rust!

Height: 6 ft. 8 in. x Width: 4 ft. Weight: 280 lbs. Inside Height: 5 ft. 6 in. Depth: 3 ft. Optional: Java wood perches 2 1/2 to 3 1/2 in. in dia. for your larger Cockatoos & Macaws. Notched or Bolt-on available. Perches fit above or below food cups. 1" Bar spacing/6 mm Bar Thickness.


Features:
Bird Proof Front Door Lock, Breeder Side Door
4 20oz Stainless Steel Cups
1 Hardwood Perch, approximately 1 1/8" thick
Java wood 2 1/2- 3 1/2" thick hardwood perches OPTIONAL, available at additional cost.
Slide-out metal grills & trays
4 Swing Out Side Door Feeders
Smooth rolling casters
Completely Knockdown
Bird Proof Lock - ID: Lock4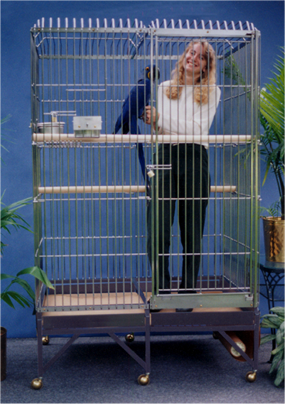 2 X 3 X 4 – Nickel Plated - $200 OBO