The latest news from a Refuge for Saving the Wildlife.

Are you thinking about fostering a parrot? Read on to find out about the benefits of becoming a foster home:


Fostering a parrot is a great way to get your feet wet if you are considering adopting. If you have never owned a parrot before then you would need to learn about parrot behaviors and how to care for parrots. Some types of parrots are not suitable for every home, but all parrots need a caretaker willing to commit to a lifetime of caring for them. Fostering is a great way to learn what type of parrot fits into your household and whether or not you'd be able to take on the responsibilities of caring for a parrot for many years.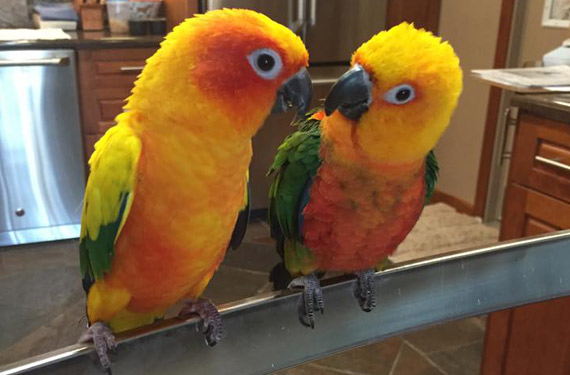 Welcome El and Reno! They are recent arrivals at the Refuge and will eventually be up for adoption. Reno, a Sun Conure, is on the left and El, a Jenday Conure, is on the right.
Check back for new updates about the two!

The Refuge for Saving the Wildlife, Inc. is hosting a memorial walk for one of our permanent residents, Sigh, a Moluccan Cockatoo, who has recently gone on to the Rainbow Bridge. Sigh came to the refuge in early 2000 when he was in his mid-20's. He was featherless, fearful and unable to move very well. After years of medicines, therapies and love, Sigh became a very trusting, loving and active bird until his untimely death in 2015.

Come celebrate his life and help raise public awareness about rescued birds and much needed funds to help the brothers and sisters Sigh has left to fill the void from his passing. Sigh will be sadly missed by all who knew him.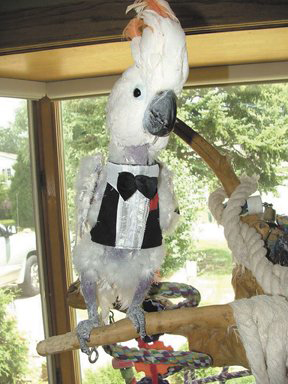 The Refuge for Saving the Wildlife, Inc., a nonprofit rescue and adoption shelter for exotic birds dedicated to educating the public on avian issues, is hosting its annual five-mile fund-raising walk through Glencoe and Winnetka at 9 a.m., September 19.

The event honors Sigh, a Moluccan cockatoo and the embodiment of the rescue's ideals. He arrived at the refuge shortly after its incorporation, at the age of 25, and recently crossed over the rainbow bridge.

The purpose of the walk is to celebrate Sigh's life, help build public awareness about rescued birds and raise much-needed funds to help Sigh's feathered brothers and sisters.

Read more: Fundraising Walk to Promote Exotic Bird Adoption and Education
Come out and support us tomorrow at the Niles Animal Hospital and Bird Medical Center for our long awaited yard sale. The yard sale at Niles Animal Hospital will be in the parking lot on Sunday, August 23rd from 9am to 3pm. All proceeds will benefit A Refuge for Saving the Wildlife. Stop on by to find some treasures and also support a great cause!