The latest news from a Refuge for Saving the Wildlife.
July 30, 2008
The Chicago, IL, mandatory spay/neuter ordinance vote was postponed due to unexpected opposition! Bob Barker mentions the San Antonio and Dallas, TX, ordinances in the same breath as the Los Angeles, CA, ordinance in the article -- something Texas certainly isn't proud of! (Go to the URL below for the entire article.)

Barker states:
"When we come to this wall which is seemingly impossible to get over, the only answer is legislation. .It's the obvious answer. .The movement for spay and neuter legislation is sweeping across this country. It's been compared to a tsunami," Barker said, noting that Los Angeles, Dallas and San Antonio have passed similar mandates.

To read the article, go to:
http://www.suntimes .com/news/ metro/1079813, pets072908. article
OR
http://tinyurl. com/552xyd
June 2, 2008

Media Contact: This email address is being protected from spambots. You need JavaScript enabled to view it., Brookfield Zoo
708/688-8351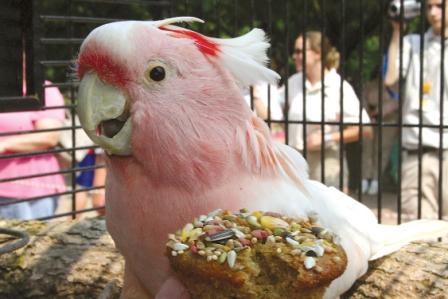 Cookie eating Birthday cake
FOR IMMEDIATE RELEASE

Brookfield Zoo's Oldest Resident, Cookie Cockatoo, Celebrates 75th Birthday

Brookfield, IL—The oldest resident at Brookfield Zoo—Cookie, a Major Mitchell's cockatoo—is turning 75, and the Chicago Zoological Society (CZS) invites bird lovers of all ages to come celebrate his special day in high-flying style on Saturday, June 28.
Dear Parrot Enthusiast,
Robin Shewokis, enrichment guru and owner of The Leather Elves (www.TheLeatherElves.com) and I are now hosting a pod cast.
Griffin will have his TV debut on July 4th on Animal Planet. I am also including the other show dates that will be in the Extraordinary Animals series.
I just read the following through a group on the Internet. I realize that most of us don't purchase our birds, but some shop at PetsMart. I haven't followed up on the details, but I thought it important enough to pass along:
Possibly someone here has more information than I do, but apparently Petsmart stores in at least three states (Minnesota, Washington, and Georgia) have reported having birds in their stores test positive for psittacosis. A Petland store in Minnesota also reported psittacosis. I don't know if this is any more widespread, but given that Petsmart tends to get many of its birds from a bird mill operation in Florida, it's quite likely that more stores than these received sick birds; these are just the ones I could find reporting sick birds from a quick Google check. If anyone here has purchased a bird recently from a Petsmart, I would seriously recommend going to an avian vet and testing for psittacosis.