June 2, 2008

Media Contact: This email address is being protected from spambots. You need JavaScript enabled to view it., Brookfield Zoo
708/688-8351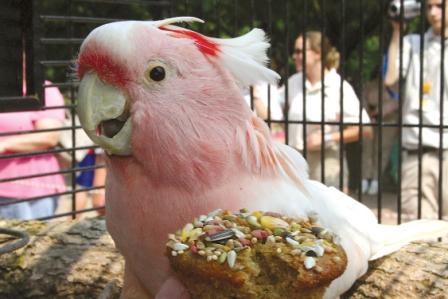 Cookie eating Birthday cake
FOR IMMEDIATE RELEASE

Brookfield Zoo's Oldest Resident, Cookie Cockatoo, Celebrates 75th Birthday

Brookfield, IL—The oldest resident at Brookfield Zoo—Cookie, a Major Mitchell's cockatoo—is turning 75, and the Chicago Zoological Society (CZS) invites bird lovers of all ages to come celebrate his special day in high-flying style on Saturday, June 28.


The festivities, sponsored by American Airlines, get underway at 10:30 a.m. at the zoo's Perching Bird House. There, guests can join zoo staff in singing a rousing chorus of "Happy Birthday" to the bird of honor. For a present, Cookie will receive a birthday cake the size of a muffin—quite large by bird standards! The muffin will be made of Cookie's favorite foods, such as carrots, apples, bananas, raisins, and eggs (including the shells for calcium). In addition, visitors will have the opportunity to send birthday wishes and greetings to Cookie by signing an enormous birthday card in front of his exhibit. Zoo keepers will be available to answer questions about the birthday bird or any of the other bird species that reside in Perching Bird House.

After the birthday celebration, guests are invited to stick around to see Mr. Nicky—skilled guitarist, vocalist, and percussionist—perform children's music. Mr. Nicky's artistic style and acoustic creative flair make him a hit with parents, as well as their kids.

Also attending Cookie's birthday bash will be The Avicultural Society of Chicagoland (TASC), which is an association of individuals with the common interest of providing a better life for birds both in their natural and domestic environments. Members from the organization will be handing out party favors to all the children attending Cookie's birthday celebration.

Cookie is the last remaining member of the zoo's original animal collection, which dates back to 1934, when the zoo first opened. Cookie arrived at Brookfield Zoo from Australia, which is home to his species. He is well beyond the average life span of his species and has become one of the zoo's most famous animals. Of the hundreds of thousands of guests that have visited Brookfield Zoo, most have probably seen him—he even receives fan mail!

Yet as is the case with elderly humans with health challenges, older animals such as Cookie also experience similar ailments. In late October 2007, Cookie was diagnosed with osteoarthritis and osteoporosis. Zoo keepers became concerned that Cookie was not feeling well after he started to sleep more during the day. New radiography equipment allowed CZS staff to obtain diagnostic images leading to a quick diagnosis. Immediately, veterinary and keeper staff made modifications to Cookie's diet in order to manage and reduce the impact of his condition and to maintain a high quality of life for the bird. The diet includes more calcium-rich items, as well as a vitamin supplement to help support joint health. In early March, veterinarians prescribed anti-inflammatory medication to help keep Cookie comfortable. Thus far, the medication has been remarkably effective. While Cookie had on occasion been sleeping on the floor of his exhibit due to arthritis pain in his leg and hip joints, he is now perching and sleeping normally. In addition, Cookie has been very vocal in the mornings and interacts with keepers during regular exhibit cleanings.

For further information about the zoo and upcoming events, visit www.CZS.org/events.

The mission of the Chicago Zoological Society, which manages Brookfield Zoo, is to inspire conservation leadership by connecting people with wildlife and nature. Open every day of the year, Brookfield Zoo is located off First Avenue between the Stevenson (I-55) and Eisenhower (I-290) expressways and is also accessible via the Tri-State Tollway (I-294), Metra commuter line, CTA, and PACE bus service.