Please read the following steps for adoption before submitting an application:
Complete the Adoption Questionnaire/Application provided below. Once we receive your completed application, your information will be reviewed by the Adoption Committee.
You will then have an interview, by phone, with our Adoptions Director to discuss your application.
The first person who is eligible will be contacted by us to schedule a time for a home visit. This may be done by any one of the Committee members.
Once the housing situation has been approved, the potential adopter will then need to come and visit with the potential adoptee to see if there will be a good connection between adopter and adoptee. WE DO NOT SHIP BIRDS, so please do not ask if we would as this is too stressful for the bird, we cannot see if it is a good fit, and most airlines will only ship cargo which is unacceptable.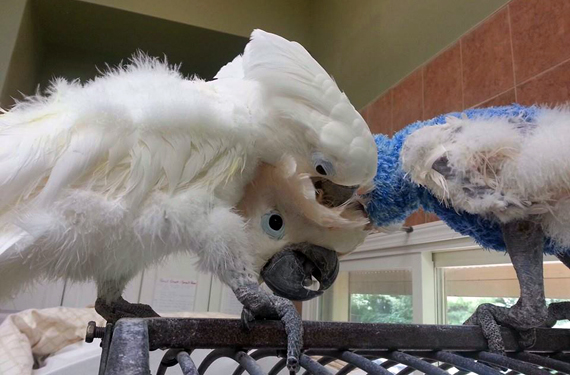 Adoption Ground Rules
It has become necessary to list the adoption ground rules by which we operate. Please take the time to read the following before submitting an application.

Our number one priority is the birds we are charged with caring for.

We do charge a fee to adopt a bird. This fee is based upon the vet costs we have incurred for the bird, the cost of rescue, and other costs associated with the rehabilitation of the bird. There is a great deal of time, money, sweat, blood, and tears that go into the rehabilitation of many of our birds. Due to the considerable effort it takes to find these birds forever homes, it often results in costly veterinary bills. Our fees are not listed on our web site because each bird's fee is based upon the costs we have incurred. Please do not call and ask the prices of our birds. Our adoption process tries to match the bird with your family and not to try to place a bird based upon its adoption fee. Once approved for adoption, you will know all of the costs involved in adopting a specific bird.

ALL of our birds receive the following veterinary work (this is what your fees come from):
Psittacosis
Polyoma testing (not the vaccination)
Psittacine Beak and Feather
Complete Blood Count (CBC)
Avian Chemistry Panel (including bile acids)
Avian Borna Virus
Fecal - Float

We do not ship any birds, as this is highly stressful for the bird and costly. In addition, part of the adoption process is a home inspection, so it is necessary that you live within a reasonable driving distance. Further, it is necessary that you meet the bird prior to our decision to adopt to you. This way we know the bird will like you and you will like the bird. There are no exceptions to this policy.

Due to many of the problems we have found and the costs involved with out-of-state adoptions, we are suspending adopting out-of-state until further notice. In addition, since we are required to perform a home inspection, we must now limit our distance to travel (at the discretion of the Director).

If you have been approved to adopt and you currently have birds, all of your birds must have the aforementioned testing protocol or we will not be able to adopt a bird to you. We would need proof of current vet records to include the above testing as well as a papilloma check, and a general examination. While this can be cost prohibitive, we cannot place our birds, whom have had all of these tests, into a home with birds that have not been tested to these standards. Since the costs can be prohibitive, there are some less expensive ways to get the testing done. Please contact the Director to determine what methods are most appropriate for your individual situation.

We know this is a long and time-consuming process and, unfortunately, not everyone who applies will be able to adopt, but we must take into account the bird's well-being as this is our number-one concern. We try to contact all interested parties, but sometimes we overlook an application. If some time has passed and you have not heard from us, please feel free to e-mail or call, as we get dozens of applications weekly.